Die nächsten Events im Vanity.
▼ 10 years of Vanity Club Cologne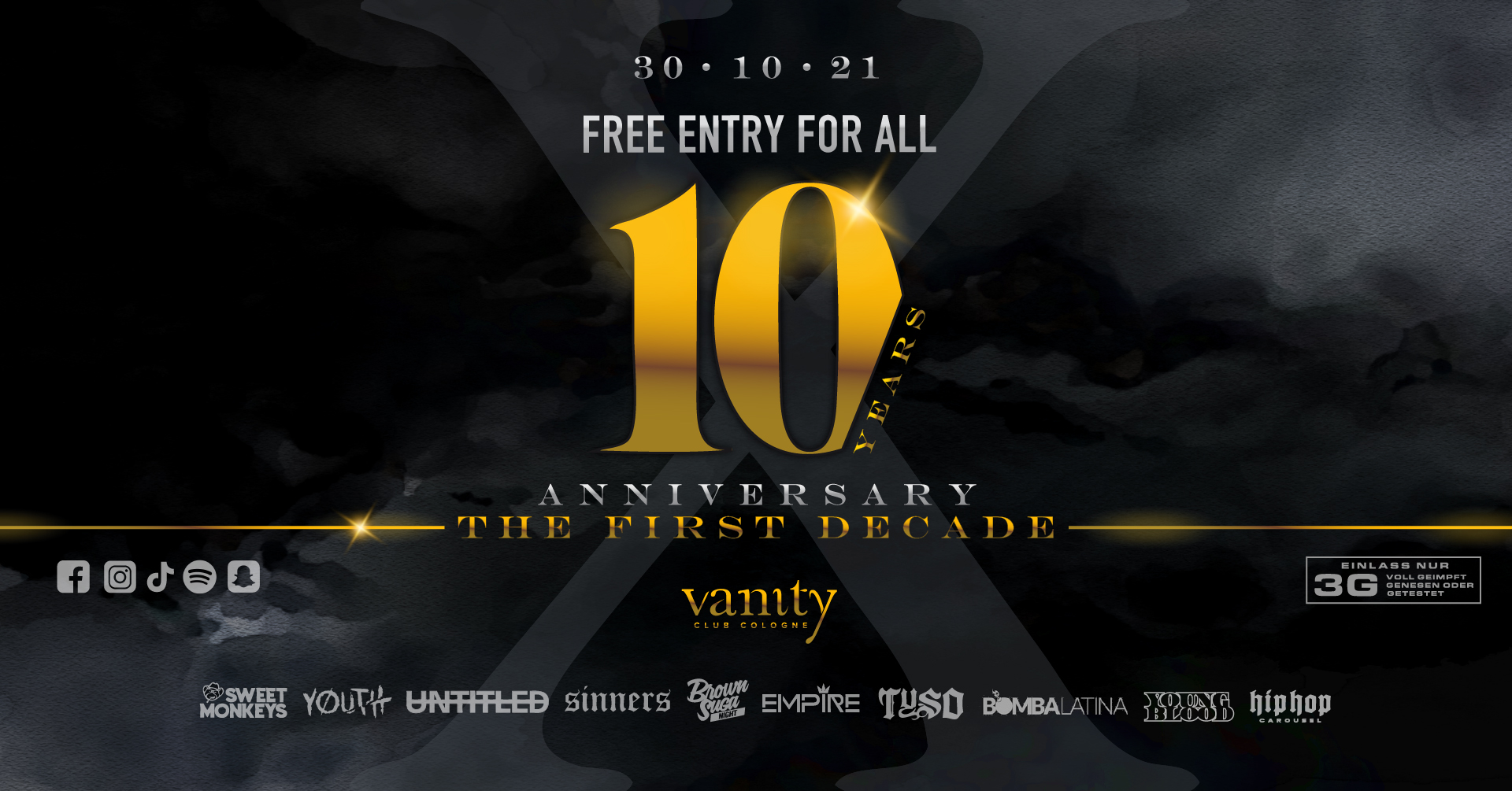 A century is about events. A decade is about people.
IT'S TIME TO CELEBRATE – THE FIRST DECADE –
Wir bedanken uns bei Euch für:
10 Jahre unvergesslicher Nächte.
10 Jahre Zusammenhalt.
10 Jahre Vertrauen.
10 Jahre Vanity Club Cologne.
10 Jahre BVNKERLOVE.
HAPPY BIRTHDAY TO US.
HAPPY BIRTHDAY TO YOU ALL.
We want to thank you. Free Entry for ALL OF YOU. ALL NIGHT LONG.
_
▼ ACCESS ONLY WITH 3G
Genesen ( max 6 Monate ), geimpft, PCR-getestet ( max. 48 Stunden alt ) oder ein maximal 6 Stunden alter Bürgertest.
KEINE MASKENPFLICHT!
FREE ENTRY!
KEINE TISCHPFLICHT!
ABENDKASSE ALL NIGHT GEÖFFNET!
▼ VIP TABLES
01712226665 [ Whatsapp or Call ]
tables@vanity.cc
Direkt am Puls des Kölner Nachtlebens kommt das Vanity ganz ohne arrogantes Publikum aus und sticht als eine der angesagtesten Adressen in der Region vielmehr durch sein sympathisches und stilvolles Publikum hervor. Internationale Acts wie Timbaland, Kid Ink, Future, G-Eazy, Ryan Leslie, PartyNextDoor, DJ Mustard, DJ Antoine oder Mike Candys gastierten nicht ohne Grund regelmäßig im schönsten Club der Stadt – feel it yourself!